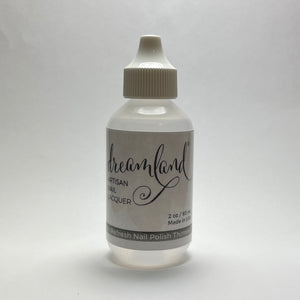 Ever wonder why a polish that was perfectly fine a few months ago is suddenly thick, goopy, and uncooperative? It's because even tightly capped polish can experience evaporation of some key solvents over time. The cure is to add those solvents back in, and that's where polish thinner comes in! 

For polishes that have gotten a little thick (or even very thick), start by adding 2-3 drops of Polish Refresh, shake well, and check to see if the consistency is closer to what you prefer. Repeat as needed.
Polish Refresh comes in a 2 oz / 60 ml bottle with a dropper tip for easy use. 
Ingredients: Ethyl Acetate, Butyl Acetate
NOTE: Never thin polishes using polish remover or acetone! Either of those will start to break down the polish ingredients rather than just replacing what was lost through evaporation.